RODNEY DECROO AND HERALD NIX
Rodney Decroo and Herald Nix came through Backspace and played alternating sets.
Check out a music video by Herald Nix as well a video
from Rodney Decroo at the Backspace show.
War Torn Man, Rodney Decroo sings about his adopted, Vietnam veteran, father. With Clara Shandler at Backspace.

Posted by Backspace on Thursday, May 22, 2014
Powered by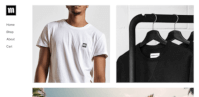 Create your own unique website with customizable templates.